Unleashing the Fantasy Realm - Age of Barbarians Chronicles Showcase at Gamescom 2023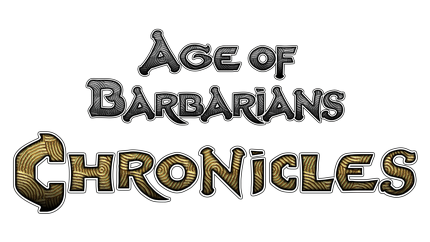 Welcome to the enthralling world of Age of Barbarians Chronicles, an action-packed RPG in the purest Sword and Sorcery style. Join us on an epic journey through the mythical realm of Atlan, where prehistory and magic collide, and heroes rise to face the impending darkness. Age of Barbarians Chronicles is the brainchild of one visionary creator, Christian Fanucci, who has poured his heart and soul into crafting this captivating game.
Age of Barbarians Chronicles offers an immersive gaming experience that takes players on an extraordinary quest to rescue Princess Sharin from the clutches of the malevolent sorcerer, Zordax the Inhuman. Control the formidable King barbarian, Xodan l'hulslauker, the fierce oracle warrior Queen, Yanah, the enigmatic mage, Ronkundar, and the stalwart dwarf warrior, Gorlo, as they unite to save the kingdom from the brink of extinction.
A Savage Prehistoric World to Discover:
Roam the ancient lost land of Atlan, a realm filled with captivating civilizations, unique customs, and ancient myths. Unravel the enigmatic prophecies surrounding Princess Sharin, the daughter of King Xodan and Queen Yanah, as you encounter nightmarish creatures and prehistoric beasts in your quest to save the realm from dark forces.
Refined and Brutal Combat Mechanics:
Master the art of combat with sophisticated mechanics involving dodges, parries, counterattacks, and blood-filled fatalities. Each hero possesses unique combat abilities, making every encounter a test of skill and strategy.



Loot Armor, Weapons, and Shining Treasures:
Delve into the ancient dungeons of Atlan, where hidden treasures lie in wait. Discover powerful weapons, shields, armor, helmets, rings, and other valuable items that enhance your combat efficiency and provide a fighting edge against formidable foes.



Age of Barbarians Chronicles embraces the spirit of classic RPGs, capturing the essence of the beloved genre while adding unique elements that elevate the gaming experience. Immerse yourself in the rich lore and atmosphere of a world drenched in Sword and Sorcery setting.



Barbaric Cooperative Action:
Embark on the adventure with friends in cooperative gameplay, where you can traverse the dangerous dungeons together, engage in thrilling side quests, and uncover the secrets of Atlan as a formidable team.



Save Companions and Let Them Help You:
Form a powerful party of adventurers and experience the strength of unity. However, be mindful that the experience points you gain will be divided among your companions, leading to strategic decisions that impact your journey.


Handcrafted and Procedural Dungeons:
Experience a blend of handcrafted and procedural dungeons, providing endless combinations and unique challenges. Each exploration promises rewarding surprises and thrilling encounters.
Prepare to unveil the epic tale of "Age of Barbarians Chronicles," where you will forge a path as the legendary heroes destined to save Atlan from impending doom. Unravel the prophecies, face fierce adversaries, and become a force to be reckoned with in this captivating and brutal world.
gamescom attendees will have the exclusive opportunity to experience a hands-on demo of Age of Barbarians Chronicles. Immerse yourself in the breathtaking landscapes, test your skills in combat, and uncover the first glimpses of the dark prophecy that sets the stage for the game's intense adventure.
Age of Barbarians Chronicles is a passion project fueled by the dedication and support of our community. Join us on Patreon
https://www.patreon.com/ageofbarbarians
to contribute to the game's development and gain exclusive insights into its creation. Together, let's shape the destiny of Atlan.
For media inquiries, interviews, and demo requests, please contact:
Christian Fanucci Criansoft@gmail.com
Crian Soft S.A is an independent game development studio founded and driven by the creative of Christian Fanucci. As a one-person indie game house, Crian Soft embodies the spirit of passion, dedication, and unwavering vision in creating extraordinary gaming experiences. With an unyielding love for storytelling and game design, Christian takes players on unforgettable journeys through captivating worlds of his own imagination.
gamescom 2023 (From August 23 to 27 and Booth Number:
hall 10.2, E016g – D017g.
)
Location:
Koelnmesse in Cologne
. Journalists, influencers, and content creators are encouraged to explore the world of Age of Barbarians Chronicles.